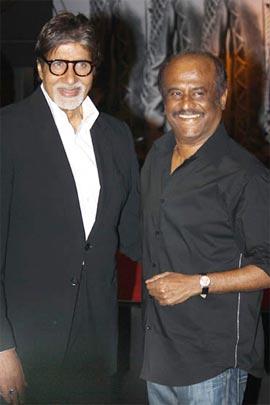 Superstars Rajnikanth and Amitabh Bachchan will be finally sharing the screen space after 20 years, as Amitabh will be appearing in Rajinikanth's Rana for a cameo role.
The latest buzz is that Amitabh will be seen in a few scenes in the second half of the film. But other details about his character have been kept under wraps.
Following the phenomenal success of Robot, Superstar Rajnikanth is slated to begin work on K S Ravikumar's Tamil action epic, Rana where he will be seen doing a triple role.
It is rumoured that the Deepika will be cast opposite a young Rajni, Vidya will be opposite a middle-aged Rajni and Rekha opposite an old Rajni.
Rajnikanth and Amitabh have been good friends for long time and in the past they have done Bollywood films like Andha Kanoonand Giraftar. The last time the two legends shared the screen space was in Late Director Mukul Anand's Hum in 1991.
Charles Darby will be the technical director of the film while Ratnavelu who had also worked on Robot will be the Director of Photography. Oscar award winner A R Rahman will render the music for the movie. Rajnikanth's daughter Soundarya is jointly producing the movie with Eros International
Courtesy:rediff.com