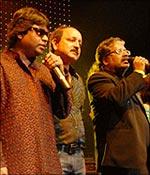 Hariharan (right) performs with A R Rahman (first left) during a concert.



Composer extraordinaire A R Rahman has many fans, and one of them is fellow musician Hariharan

The singer is devoted to Rahman for many reasons, chief among them being "his strength, and the way he designs sound."

"He has revolutionised film music and is perpetually on a quest to get the best out of you and makes you feel at ease which is important. I have sung some of my best songs for him. I will drop everything to sing his compositions."

The singer and composer -- who had just wound up an American tour that took him to more than 12 cities -- got a call from Rahman asking him to join half-a-dozen other singers in another concert tour. Hariharan did not think twice before consenting to return to America.

"In my heart and career, I hold a very special corner for Rahman," he says. "He has given me some of his finest songs to sing in Tamil and Hindi."

During his solo concert, one of the most appreciated Hariharan songs was from Guru. "It brought the house down every time I sang it," he says referring to Yeh Hairathe, which he sang with Alka Yagnik in the film.

Hariharan says the haunting composition, lyrics and director Mani Ratnam are the three reasons why the song did so well.

Hariharan says that though he made his film debut many years before Rahman came to him with Roja , it was his song in that film that gave his career a big boost.

"It was like I was singing for a very vast audience for the first time," says Hariharan who sang for composer Jaidev in the 1977 film Gaman. His first song, Ajeeb saane he mujh par qarar, brought accolades and very soon his voice was heard in many offbeat films.

But it was the song Thamizha thamizha from Mani Ratnam's Roja in 1992 that catapulted him to fame.

Soon he reached another milestone with a song for Rahman in Mani Ratnam's Bombay. The song Uyire Uyire sung with K S Chitra became very popular in the four southern states. The Hindi version Tu Hi Re was even a bigger hit.

Rahman, in turn, also has a soft corner for Hariharan and, like some of the best singers he has worked with, Rahman says Hariharan likes to push the envelope.

"The more you demand from him, the more he gives. At times, Hariharan can even exhaust the most patient composer," Rahman says with a chuckle.